---
Tournament Info
---
Click HERE for preferred hotels info
---

For November/December Detroit Regional Silver Stick, click HERE

For January International Silver Stick, click HERE
---
Detroit Regional Silver Stick

Last FULL weekend of November all Girls divisions 8u thru 19u
First weekend of December all 'A' boy's divisions
Second weekend of December all 'AA' boy's divisions

REGISTRATION INSTRUCTIONS ARE BELOW

FOR RULES, SCHEDULE & RESULTS CLICK HERE .

PREVIOUS TOURNAMENT
GAME RESULTS AVAILABLE HERE.

---
** Silver Stick Registration **
for both BOYS and GIRLS

Policy change as of July 2003 -
postmarks are now INSIGNIFICANT!
We are now an INVITATIONAL TOURNAMENT!
1. You must first file an application online BY SEPTEMBER 1st - by clicking here (note: Link disabled Sept 2nd thru mid-June).
Be certain to follow the process all the way through registration preview and second submission click where you will see a confirmation window and message. Then, within minutes of completing the online registration you will receive a confirming email to the email address you submitted. If this doesn't occur, contact the webmaster (see CONTACTS page) within 24 hours.
2. The Tournament Director and Selection Committee will review all online applications in mid-September.
3. Invitations will be mailed to selected teams on September 20th.

4. An invited team will have ten days to mail back a $750 entrance fee and a CERTIFIED CLEAR COPY OF ITS USA ROSTER. Detailed instructions will be included with the invitation.

5. If a team does not respond within ten days, the Silver Stick Selection Committee will construe the non-response as meaning the team is declining the invitation; consequently, an invitation will be extended to an alternate team.

6. Schedules will be available by November 1st for Girls, November 15th for Boys.

Invitations are based upon the recommendations of the St. Clair Shores Hockey Association Metro Detroit Invitational Regional Silver Stick Selection Committee as well as a franchise's past performance in Silver Stick Tournaments and sportsmanship displayed by the head coach/franchise holder at the Regional Tournament.

All decisions of the tournament director and selection committee are final.

ANY QUESTIONS PLEASE CONTACT:

BOY'S DIVISION - DALE BUSS at (313) 885-3215
or email to "troymedicalPC at cs dot com"

GIRL'S DIVISION - TORY DELEEUW at (734) 395-6643
or email to "toryd21 at yahoo dot com"

SEE YOU IN NOVEMBER AND DECEMBER!
---
International January
Silver Stick
Mite A, B, C, AA
Midget AAA (if available)
All games will be played at either
SCS Civic Arena (with two surfaces identified as "Gardens" or "Olympia")
or
Detroit "City" Sports Center arena.

Visit "Our Arenas" page by clicking HERE for more info on the two arenas...
or if you prefer and have Adobe Acrobat on your PC -
here are two maps in Adobe .pdf format for SCS Civic and Detroit City arenas.

CURRENT YEAR SCHEDULES AVAILABLE HERE
(Dark Green link = disabled, however, once scheduling done, RED link = active)

NEAR INSTANT GAME RESULTS AVAILABLE HERE
(Dark Green link = disabled, however, once play begins, RED link = active)

PREVIOUS SILVER STICK GAME RESULTS AVAILABLE HERE.

Return to SCSHA home page
---
---
The St. Clair Shores Hockey Association is proud to recommend the following "Preferred Hotels" when visiting the St. Clair Shores area.
---



Click HERE for hotel website
The RS Eastin Hotel in neighboring Roseville Michigan, just 4 miles from the arena at the corner of Masonic (13 and 1/2 mile Road) and Little Mack.

Phone - Tel: 586-296-6700 / Fax: 586-296-7412
ask for Gordon Gilliatt / Hotel Sales Manager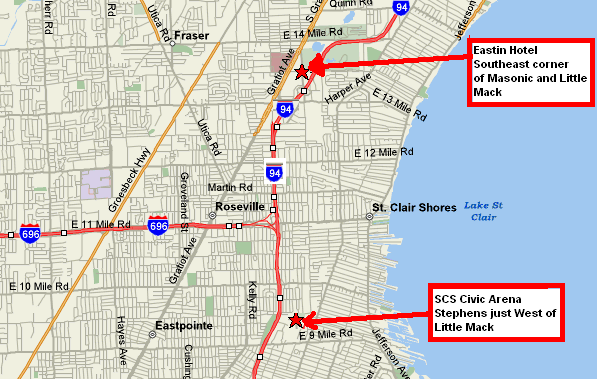 ---
<![if !vml]>

<![endif]> Click HERE for hotel website
Best Western Sterling Inn Featuring an Indoor Water Park
Host Hotel for the St. Clair Shores Hockey Association
Special group rates are available for teams using 10 or more rooms!
Rate includes 4 water park admissions.
Spacious rooms available with either 2 queen size beds or a king with pull out.
Please call Kathleen Giffen at 586-722-0210 to set up your group block.

The Best Western Sterling Inn Banquet & Conference Center located at the Southwest Corner of Van Dyke and 15 Mile Roads in Sterling Heights is a luxurious 246 room full service hotel, banquet and conference center offering many amenities including a 32,000 sq. ft. indoor Water Park. The hotel features free wireless high speed Internet and a business center with free computers, Internet access and printers. The Water Park features a 5,000 sq. ft. zero-entry swimming pool with a water slide, lazy river, interactive splash play park, full time lifeguards, indoor running track, state-of-the-art fitness center, video game arcade, two large whirlpools, steam room, locker rooms and a poolside snack bar with full bar service. The property also features dining at the award winning Loon River Cafe and 15,000 sq. ft. ballroom accommodating up to 1,400 guests. For more information please call (586) 979-1400 or visit us online at www.sterlinginn.com
---