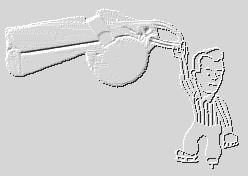 ---
Referees Info Page
REFEREE CLINIC INFO click HERE
---
Browse the current Referee Schedule by clicking HERE. * As of 1/25/2007 *
(note - entering any information into the spreadsheet will do you NO GOOD, only the Referee In Chief has update rights to the schedule and anything you enter will be gone once you leave the website. Schedule refs properly through Greg (see below) and use this page simply as a verification tool, updated every two weeks or so).
Submit Referee Scheduling Requests by using the new Referee Request Form. On this form is a page with a sample of the proper formatting and then a second page with a blank page you may print out, fill in and then place in the Referee In Chief's box or save it in Excel and email it to Greg at "greg at scsra dot com" . For the form in Web/HTML format to print and drop off, click HERE or for the Excel version of the form to download and fill out for emailing or print, click HERE..
---
Links to other referee sites:
Ryan White will be maintaining an "up to date" version of the SCS referee page at http://www.scsra.com check it out!!
Try - http://members.tm.net/dennisl/official.htm an official's website recommended by hockey friends in Midland, MI.
Will be happy to add any more suggested.
Email suggestions to the webmaster (see CONTACTS page)
---
As part of our process for continued improvement in officiating, we are requesting that coaches complete referee evaluations on the staff officiating their games. Forms have been distributed to each team via their team mailbox behind the front counter at SCS Civic Arena. In addition blank forms should be available at the counter. Within the next two weeks, we will have a blank form available on this web page and perhaps even an interactive discussion page where fans and coaches may privately or openly stage concerns, complaints, praise or recommendations about our officials. Until that time, we ask that you use the SCSHA Discussion Board if you wish to communicate such information to the board, including Referee-In-Chief Greg White. Printable Referee Evaluations
---
REFEREE SCHEDULE UPDATES: Referee in chief: Greg White (

586

) 771-8406
email at: "greg at scsra dot com" From the desk of Greg White RIC...
Clinic Information!

ADDED 7/10/2006

St. Clair Shores clinics for brand new referee's and returning officials that would like to come will be held:


THE FIRST TWO SUNDAYS OF AUGUST for all referee's that want to work next season at St. Clair Shores.

We will be meeting from 8:30am until 5:00pm both days. Referee's and people wanting to be referee's will need to bring the following:

2. Helm

e

t (with cage removed)

6. Whistle (ACME Thunder or FOX 40l)
7. Comfortable clothes to skate and sit in the classroom in

We will be skating 2 different sessions morning and afternoon and will be breaking for lunch. Bring a lunch or money to buy a lunch.

These clinics are not the mandatory USA clinics but go over the basics and give you more exposure before your first games (or first games of the season) to dropping face offs, calling off sides, calling icing, penalty signals, and many other referee fundamentals.

In order to referee in Saint Clair Shores, make sure Greg White has a photocopy of your card. Without this he has no proof that you are a registered official. If you are at the rink, ask the front desk to make a copy of it and to put it into Greg's mail box.

Additional information available on the webpage: http://www.scsra.com

Thank you.

Gregory White
SCSRA - R.I.C.


check out http://www.maha.org


---
Occasionally an offensive player will be called for slashing when "digging" at the puck after an opposing goaltender has covered it, even though the whistle has not blown. Frequently that is the argument used by the players, coaches and fans and indeed, quite often players are taught to keep working at the puck until they hear the whistle. The rule actually reads that "a slashing penalty will be imposed anytime contact is made with a goaltender covering a puck REGARDLESS of whether the whistle is blown or not".

Occasionally an icing call is "waved off" when it is clear to fans that 1) the teams are at even strength, 2) the puck was sent from the offensive side of the center redline, 3) the puck indeed crossed the far goal line and 4) no defensive player touched it. The referee will wave off the icing if he feels the Defensive player "could have touched" the puck with relative ease and effort. Simply "missing" the puck or not skating hard enough is not cause to keep the icing call active.

Occasionally a player is called for tripping after making what his/her fans, coaches and no doubt parents feel is a "fantastic" defensive play diving headlong for a puckcarrier who may have a step or two on him/her and knocking the puck off the opponents stick. Sure, the puckcarrier eventually fell due to the momentum of the sliding defender striking their feet "BUT THE PUCK WAS TOUCHED FIRST!!" call the fans, outraged by the referees misunderstanding of the rule. Quite the contrary... tripping must be called when a player leaves his feet and trips another player whether or not the puck is touched first. Rule 639(a) "Any player who deliberately leaves his feet and contacts an opponent with any part of his body thereby causing the opponent to trip or fall shall be assessed an minor penalty (Clipping)." (Note 3) This rule does not apply to a player who has dropped to his knee(s) to block a shot.

Hey, here's a tough one. Everyone knows that in the final two minutes of a game, if one team is guilty of "delay of game" the result is a penalty shot, right? So imagine this, final 30 seconds of the game with the curfew clock counting down close behind, let's say 50 seconds to curfew. There's a scramble in front of the net of the team ahead in a close 3-2 battle. Goaltender decides rather than risk it with the scramble in front, why not knock the net off the moorings to get a stoppage in play. Referee determines this to be a blatant delay of game tactic and awards a penalty shot, HOWEVER, before everyone can get lined up and with both coaches screaming for an explanation... the curfew clock sounds and the Zamboni doors swing open. What now? Is there any rule, like in Football, which says that a game cannot end on a "defensive" penalty? Express your opinions or answers on the Discussion Board and look here next month for the correct interpretation.

etc..More suggestions

etc..